Bushcraft & Foraging Holiday Experience
(including Greenwood Carving)
with Rob Gould, Stu Cook & Rosie Mockford
22nd to 25th June 2021
The two day Outdoor Skills Experience at Notgrove Holidays is a wonderful way to start your journey towards getting more in tune with nature. Over the course of your stay, our three expert instructors will introduce you to a range of different outdoor skills, although focusing particularly on foraging, bushcraft, greenwood carving and outdoor cooking.
Set on the idyllic 1,500 acre private Notgrove Estate in the beautiful Cotswold countryside, it's the perfect place to learn about harvesting your own edible wild foods, plus how to enhance your outdoor experiences with self-made tools and equipment, which you can then utilise for outdoor cooking and camping, or just everyday life.
Our two day and three-night experience is suitable for people with all levels of foraging, bushcraft, and greenwood carving ability and will be adapted to suit the skill levels of every separate group of attendees. Things which will be discussed and taught are listed below, but many more topics will undoubtedly be covered:
❖ Learn how to safely gather your own wild ingredients
❖ Expert guidance from a renowned forager
❖ Wild game preparation & cookery over real outdoor fires
❖ Knife safety & knife techniques, for bushcraft and carving
❖ Natural shelters and selecting a camp location
❖ Make your own butter knife, spatula or spoon
❖ Time to enjoy the local scenery, immerse yourself in nature and get away from the stresses of life
all to be enjoyed while staying in idyllic Cotswold countryside in our cosy glamping pods.
Why You Should Book
The experience will be jointly led by Rob Gould, Cotswold Forager, Rosie Mockford of Rosie.Joy.Maker, and Stu Cook of Sharps & Sparks Outdoor. All three are passionate advocates of the outdoors in general and feel that spending positive time in nature is of utmost importance to many people for their physical and mental wellbeing, whether they realise that for themselves or not.
Their aim is for attendees to go home with a refreshed look on the natural world that surrounds them, whether in terms of how they choose to interact with it on a daily basis, or of how their activities and interactions whilst outside impact on both themselves and nature. The skills you obtain over this two-day course, even if you choose to never make use of them again, will hopefully make you feel more comfortable and in tune with the outdoors, and make you appreciate even more the time you get to spend there.
For more information about Rosie, Rob & Stu, please read their brief biographies.
Rob Gould, Cotswold Forager
With over 20 years' foraging experience under his belt, Rob has a wealth of knowledge and a passion for the outdoors that goes far beyond what is simply edible, also covering things such as preserving your wild harvest, natural history and folklore relating to what you will see when out with him. He is also passionate about the seasonality of food across the entire culinary spectrum.
"Rob has a great attitude and he nurtures learning and understanding. His knowledge of nature and our countryside is amazing, and I learned so much in my time with him. He gave me an insight into an area that I thought I knew well already"
"After originally inviting Rob out to help us look at developing our site to be more nature friendly, we realised that there was an incredible opportunity to work with him on something far more exciting. His enthusiasm is contagious, and his knowledge about the natural world – and his willingness to research deeply into anything unknown he discovers – is astonishing. We cannot wait to work alongside him again in the future"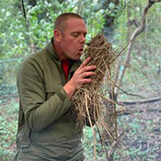 Stu Cook, Sharps & Sparks Outdoor
Stu has loved the outdoors since his childhood days, which he spent sailing, canoeing and hillwalking with his family, as well as participating in similar activities with his local Scouts.
As an adult, Stu carried on his involvement with the scouts, and has now been a Scout leader for over 20 years, helping to inspire hundreds of young people to begin, and then continue, their adventures in the outdoors. 
In recent years, with it becoming clear that so many people had the attitude of "I'd love to have a go at that, but wouldn't know where to start," Stu decided to begin running courses for adults too. 
Stu is hugely passionate about giving people the inspiration, and then the required skills, to get out and enjoy what's around them, although for him it is equally important to foster in them an ethos of caring and respecting the outdoors too!
Rosie Mockford, Rosie.Joy.Maker
Rosie is particularly passionate about nature, outdoor 'crafts and crafting' and, in her other role as a nurse, is hugely interested in the role that nature and rural skills can play on a therapeutic basis. 
Although she had been a keen maker and crafter since childhood, she is the first to admit that she became unexpectedly obsessed with spoon carving – despite having previously had no experience of woodwork whatsoever – as soon as she tried it!
Inspired initially by the practicality of wooden spoons when hiking, wild camping and doing bushcraft, Rosie very quickly began to find the satisfaction that can come from learning to understand the material that is all around us in nature – wood.
After initially learning under the watchful eye of renowned green woodworker Dave Cockcroft, she is now, under her online persona of Rosie.Joy.Maker, working alongside him on courses at Brook House Woods. Alongside this, she can be found selling her wonderful handcrafted utensils at craft markets across the Cotswolds, as well as acting as a Rural Skills tutor for Cotswolds National Landscape, who share her whole ethos of supporting people to feel more connected to nature whilst learning new skills.
A member of the Heritage Crafts Association and The Association of Pole Lathe Turners and Green Woodworkers, Rosie enjoys continued development in traditional skills and is currently learning the HCA red list endangered craft of pole lathe bowl turning.
Schedule
Your holiday experience will be a relaxed program of foraging, bushcraft, greenwood carving, cooking, walks and free time to allow you to enjoy your time and relax.
Day One-Tuesday:
Arrive from 3:30 pm
4:00 pm           Settle yourself in to your private pod, followed by free time to start exploring the surroundings at Notgrove.
7:00 pm           Meet leader, Rob Gould, for a group dinner at the Nuttery Café.
Day Two-Wednesday:
8:30 am           Breakfast at Nuttery.
9.00am            Meet Rob, Stu & Rosie at the Nuttery before heading off to the location for your basecamp for the next two days, potentially with some foraging on the way.
9.30 am           ​​Over cups of tea, discuss the objectives for the day. Followed by a knifework session led by Stu and Rosie, focusing on safety when working on both carving and bushcraft.
10.30 am         Greenwood carving session with Rosie. Whilst you continue with your carving, Rob and Stu will start on with preparing lunch, combining foraged, store cupboard and preserved wild ingredients.
1.00 pm           ​​​​Lunch served.
2.00 pm           Head out on a walk with Rob, to look for seasonal ingredients for dinner. Rosie and Stu will also join – as well as discussing foraged foods, there will be opportunities to chat about how different trees and plants are utilised for both bushcraft and carving.
3:30 pm           Afternoon bushcraft session with Stu, covering fire lighting, shelter placement and building, plus other skills, time allowing.
7:00 pm           Fire-cooked dinner with various damper breads and other accompaniments.
Day Three–Thursday:
8:30am            Breakfast at the Nuttery Café
9:00 am           Meet Rob, Rosie & Stu at the basecamp fire, to discuss the plan for the day.
10:00 am         Greenwood carving session with Rosie.
12.30​​ am         ​​Begin cooking light lunch, combining foraged, store cupboard and preserved wild ingredients.
1.30 pm           ​​​​Lunch served.
2.30​​ pm           Bushcraft session with Stu, covering wild game preparation, camp hygiene, tool use. Time will also be allocated to cover topics in further detail.
5:00 pm           Foraging session to look for items for the night's meal. Attendees may also choose to work further with Stu or Rosie on ongoing projects.
7:00 pm           Finale. Fire-cooked dinner with breads, drinks and seasonal accompaniments.
Day Four-Friday:
8:30 am           Breakfast at the Nuttery Café
10:00 am         Check out of your Pod, and feedback, followed by departure.
Please note this schedule outline is for approximate guidance only and will be subject to change, depending upon the weather and other circumstances beyond our control.
Accommodation

Each person will stay in their own Glamping Pod with a lovely view over Notgrove and the surrounding countryside.
They are warm and cosy with a double bed, wet room, galley kitchen, TV and relaxing seating area. All bedding and towels are included along with tea, coffee, milk and sugar.
Catering
You will be fully catered for during the holiday, with breakfast being provided by the Nuttery Café onsite; and lunch and dinner – and frequent snacks/nibbles – jointly prepared and served during your time spent with Stu, Rob & Rosie.
Please let us know if you have any special dietary requirements or allergies when booking.
Dates
Our bushcraft and foraging holiday experience for 2021 will be 22nd to 25th June.
If you are unable to make these dates, we will be holding another retreat later in 2021 so please email us at office@notgrove.com so we can put your name on the waiting list and send you details.
Pricing
The all-inclusive price includes your accommodation, linen, food and tea/coffee/water, all cooking sessions/workshops and foraging walks. The only foreseeable extras would be any extra food or drinks ordered at the onsite Nuttery Café.
Early bird booking per person (before 26/4/21)     £625
Price per person (from 27/4/21)     £675
There is a discount of £100 pp for those who wish to share a Pod (double bed and sofa bed available in each Pod).
What to Bring
Your wellies or walking boots, warm and waterproof outdoor clothing for walking and cooking outside. Comfortable casual clothing, personal and overnight essentials.
Please also bring along a water bottle, notebook and camera/mobile phone, plus potentially a comfy folding seat.  You may also wish to bring your own foraging and bushcraft equipment, i.e. baskets, knives, but this is not essential. Likewise, you may choose to bring your own outdoor sleeping equipment – i.e. sleeping bag and ground protection – for potential overnight sessions, but again this is down to your own personal preference – all other necessary equipment will be provided.
Location
The Bushcraft and Foraging holiday experience will be held in the beautiful Cotswolds at:
Notgrove Holidays
Notgrove
Nr Cheltenham
Gloucestershire
GL54 3BT
Directions will be emailed to you with further details of the retreat once you have booked.
To book, please complete the booking form below and book before 1st June 2021 to avoid disappointment.
Terms and Conditions
Notgrove Holidays Glamping Pods Accommodation terms and conditions are here
Cancellation Policy
If we have fewer than four confirmed bookings on 16th May 2021 we will be forced to cancel the retreat and a full refund will be given. If Covid 19 Government Guidelines means we are unable to hold the retreat on 8-11 June 2021, we will reschedule for the next available dates. Please see our website for our full cancellation policy details in our Terms & Conditions