COTSWOLDS LUXURY FAMILY SAFARI TENTS, GLAMPING PODS & HOLIDAY COTTAGES
WHY NOTGROVE HOLIDAYS?
1500 acres of beautiful Cotswold countryside to explore, mapped walks and cycle routes, and a host of added extras
…we aim to give you a true family holiday experience.
Our holiday cottages offer more than just a place to stay, with 1500 acres of beautiful Cotswold countryside to explore, mapped walks and cycle routes, and a host of added extras we aim to give you a true holiday experience.  Meet the alpacas and highland cows, and have a cuddle with the donkeys and goats. Our animals love to be fed and fussed by our guests and we insist that everyone meets them during their stay.
We have mapped out farm walks and the best cycle routes, we can have bicycles waiting for you when you arrive and walking/cycle maps are included in the cottage welcome packs. We also have a tennis court for hire and we can help you arrange bush craft, falconry, foraging, electric quad bikes, photography, fitness and yoga/pilates classes, horse-riding, fishing and clay pigeon shooting prior to your stay. See our full range of Bespoke Extras here
The Notgrove Estate
The Notgrove Estate is a 1500 acre family farm high up on the Cotswold Hills.  Like many others it has diversified and welcomes guests to its selection of accommodation on the farm. Feel free to walk around our marked footpaths and appreciate our beautiful scenery that changes with each season and the pattern of farming. The farm has wonderful wildlife, and Notgrove Village with just 32 cottages is the same size now as it was in the Doomsday Book of 1086. Do also drop in and visit our own licensed Cafe and Bar – The Nuttery, in the heart of the Village.
The Village is only 3 miles from Bourton on the Water, and within reach of many well known Cotswold villages and towns, from Upper and Lower Slaugher and the Swells, to Bibury and Cheltenham. We also have many local attractions a short drive away including Adam's Farm Park and the Cotswold Wildlife Park at Burford.
For those who like a walk to the pub, our neighbouring villages of Cold Aston and Naunton both have thriving local pubs selling local beer. Please explore our website to find more information about the local area and see pictures of the estate.
Fantastic accommodation in beautiful Cotswold countryside. 14 of us stayed, age range 4 to 77 and all of us loved it. The kids loved the games room and visiting the alpacas, donkeys & goat. Plus there's a lovely pub only half-hour walk away.
Just return from a weekend in the safari tents. The little touches added makes it homely and everything has been thought of, the cleanliness of the tents is high standard. The green area in front of the tents is great and was well used despite the rain!!!
Our 3-year-old settled in straight away and was so relaxed and content. It was idyllic and beautiful. The pod was amazing and was just right for what we needed. The grounds and village were breath-taking and welcoming.
We had a wonderful time. The pods were perfectly appointed and it was wonderful to have lots of open space for the kids to play in. We all made very good use of the games room and have come home with Table Football superstars.
Had an amazing two nights here with my hubby and two boys in the Safari Tents. Beautiful grounds and everything we needed. The shower blocks were clean and the boys loved the games room and play area.
Lovely big property. All rooms have en-suite bathrooms and there is plenty of storage space. Great location with some lovely walks in the area.
We had 2 amazing nights here in a pod. The pod was warm and cozy, our children loved the games room and we all enjoyed a campfire each evening. Wish we had booked a longer stay, we will book again soon!
Lovely grounds. The pods were amazing. Really comfortable, even with the four us (me, my wife and 2 kids). The games room was well equipped and the staff were really nice. Bourton on the Water is a quaint town to visit.
We had a lovely weekend at Notgrove, staying in Wainway, two adjoining cottages. We all enjoyed ourselves celebrating a family 80th birthday with age ranges from 9 to 80 and a dog. The accommodation was great – well equipped and comfortable.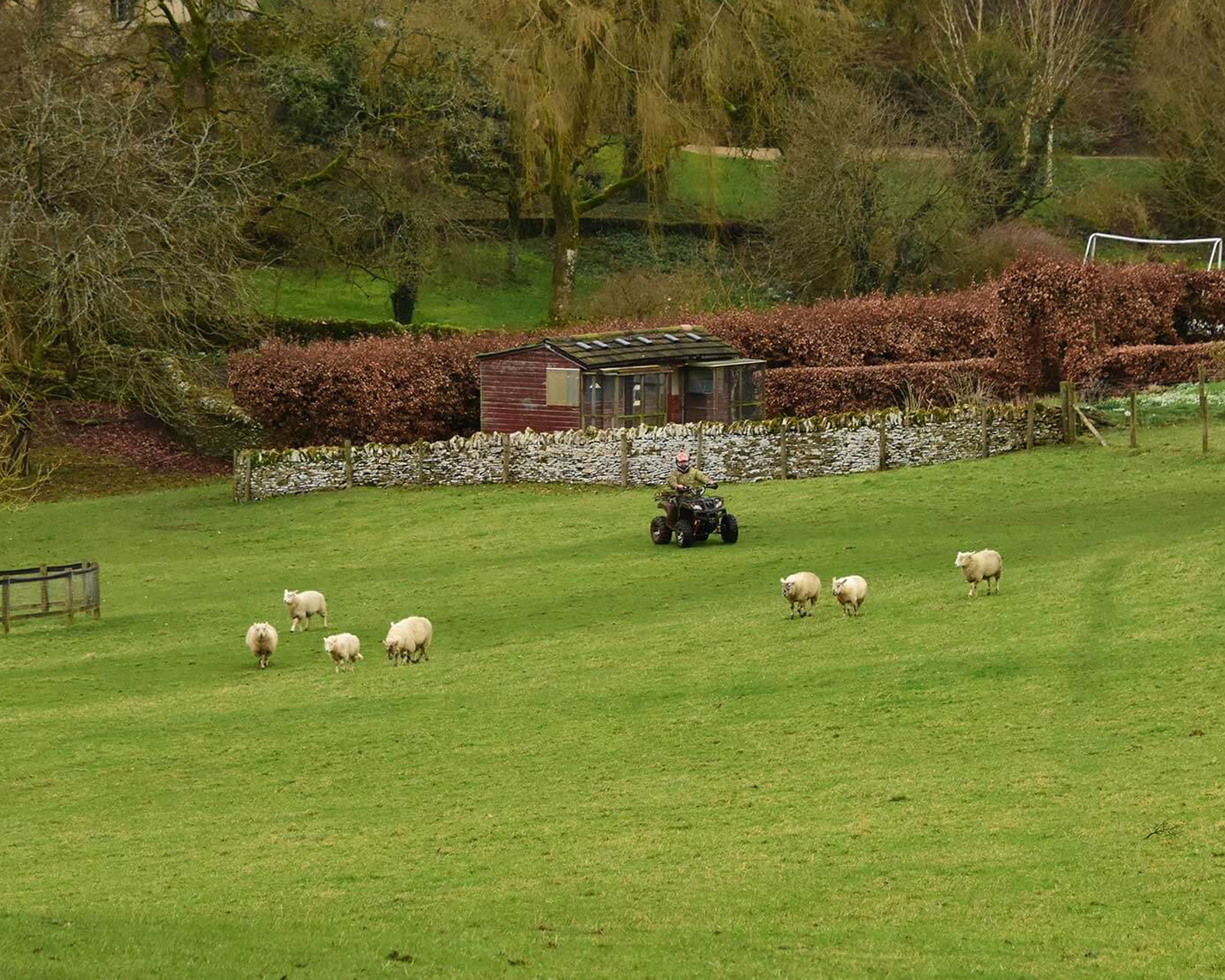 QUADQUEST – Electric Quad Biking
Here, in the heart of the picturesque Cotswolds, we are delighted to invite you to try our Electric Quad Biking Ramble or the more Extreme Course.  Suitable for adults and children 7 years and older, it's great fun for all.
Our track is situated around the beautifully Notgrove Estate which guarantees an experience like no other. Our instructor will take you for a few miles ride around the farm, with twists, turns, humps, bumps and ditches, guaranteeing you will not get bored! Along the way, you will get immersed in the wonderful, natural surroundings of Notgrove.
COVID-19 precautions: Each quad bike is cleaned after every use with an alcohol-based antibacterial spray. Helmets, goggles and waterproofs are sterilised after every use. We have disposable gloves, face masks and hats to put under the helmet.
To book go to www.quadquest.co.uk or call 01451 885150.
Walking
Notgrove is an ideal spot for people keen to enjoy the countryside and enjoy a Cotswold walking holiday. Three national walking trails cross and border the Estate: The Macmillan Way, Diamond Way and Gloucestershire Way. In addition to this, we have set up marked walks around the farm, along tracks and open grassland.  Each cottage has a map of the farm showing these routes.
Cycling
Being keen cyclists themselves Harry and Diana have mapped out some of their favourite cycle rides for you to enjoy. We have miles of lovely country lanes you can cycle.  Shorter routes include visiting the local coffee shops in Guiting Power, Winchcombe or Sherborne (or the pub of course!) For those who are more ambitious, we have routes visiting Bourton on the Water, Stow on the Wold and Cirencester. Else cycle along the Windrush Way to Burford or the Coln Valley to Bibury and Cirencester. Each cottage has a cycle map with our favourite routes mapped out. Harry cycles on a Saturday morning – all are welcome to join him!  Only one rule applies and that is that you have to find somewhere to stop for coffee and a bun.
You can also hire electric bikes for the duration of your stay through Far Peak, click here to see hire prices and book.  They will deliver and collect from your door. When hiring a bike please put down the Tent/Pod/Tent Name and NOTGROVE HOLIDAYS for the delivery.
OTHER LOCAL ACTIVITIES
Located in the heart of the stunning Cotswolds, there is so much to do during your stay that we simply can't list them all…so here are our top picks.