Our Pods- why they will provide you with the best alternative accommodation for your time at the Cheltenham Festival here in the Cotswolds.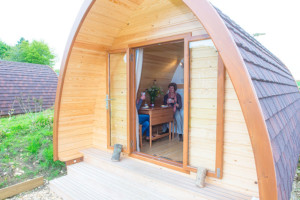 I am writing this with only weeks to go until Cheltenham and its surrounding hills are going to be lifted up with endless amounts of adrenaline, cheers, excitement, highs, lows, passion and more tweed and champagne bottles than you could ever possibly dream of. Yes it is that time of year again: The Cheltenham Festival.
'The festival' as it is lovingly known by seasoned race goers and local folk is not what you may first be thinking of. Yes you may wear your wellies. Yes you may well be surrounded by mud ( or good to soft / soft , heavy in places as the course prefer to refer to it). Yes you may also see some wacky attire but perhaps not in the whimsical way at some festivals, maybe no glow sticks either although the after parties may beg to differ. Tents may be seen but more in the shape and form of marquees. Talking of 'form' there will be plenty of this to read about and study in the race cards.
What you will no doubt see….Food and drink stands – most definitely. Bookmakers- absolutely. Stunning thoroughbred horses at their absolute prime, tip top condition ready to run their best performance yet this season – 100%.  Jockeys , owners and trainers who dream of having their horses just running in these races let alone coming in the placings or even winning them – enough to shake your stick (or whip) at!
From the 14th of March to the 17th 2017, Cheltenham hosts the biggest event in Horse Racing. We are lucky enough to be only a short drive away from it and you are even luckier to have the opportunity to have the perfect accommodation here in Notgrove in our Glamping pods.
They have all that you could possibly need for your 'base'. If you weren't making it to the festival for all of the four days of racing you could stay in your pod and watch the racing on the TV whilst enjoying the views around us. Although I am most definitely NOT saying that you would find any donkeys on the track at Cheltenham (though I am sure some punters may argue otherwise) you will find two beautiful ones here to watch if you wanted to.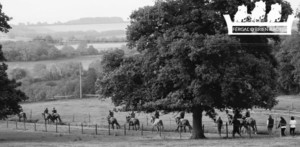 Also we are exceptionally lucky to be within a stone's throw away from several extremely successful racing yards all having some very talented runners entered in the races.
Nigel Twiston-Davies and Fergal O'Brien are less than five minutes away and you can see them exercising the horses up the gallops from the road which is always a great sight. Their favourite watering hole is the Hollow Bottom which would also be a great place to watch a day's racing and even better to spend the evening. Especially if either has a winner.
Jonjo O'Neil and Martin Keighley are about ten minutes away at different but equally beautiful locations. If you decided to head to the Plough at Ford for a pre-racing breakfast you would also get to see Jonjo's horses heading off up the Gallops and on an evening after the races the Plough is always very popular with both parties.
Kim Bailey and Ben Pauling are also extremely close and definitely names to follow whatever meeting you are at. Charlie Longsdon and Tom George are great trainers in the surrounding area with high hopes as well!
We shall be following all of our local trainers throughout the week of racing in hope of seeing plenty of winners for them all!!!