COTSWOLDS LUXURY FAMILY SAFARI TENTS, GLAMPING PODS & HOLIDAY COTTAGES
OUR ANIMALS AT NOTGROVE!
Where do we start?

 

We love all of our animals to pieces even though they have us running around after them!
All of our furry friends love to fed, cuddled and adored by our guests. Our staff are always ready to show them off and tell you all about them, in fact we will probably insist on it!
To follow our animals and their exploits please follow us on Facebook
Let's start with the ALPACAS!
We have 6 alpacas in total, Humphrey, Theodore, Bart, Bobbin, Winston and Jackson. They are also constantly mistaken for Llama when they are in fact Alpaca's (less grumpy than Llama and minus the spitting). They live in the paddocks opposite the Glamping Pods and we will happily take you to meet them and explain a bit more about these fleecy fuzz balls during your stay.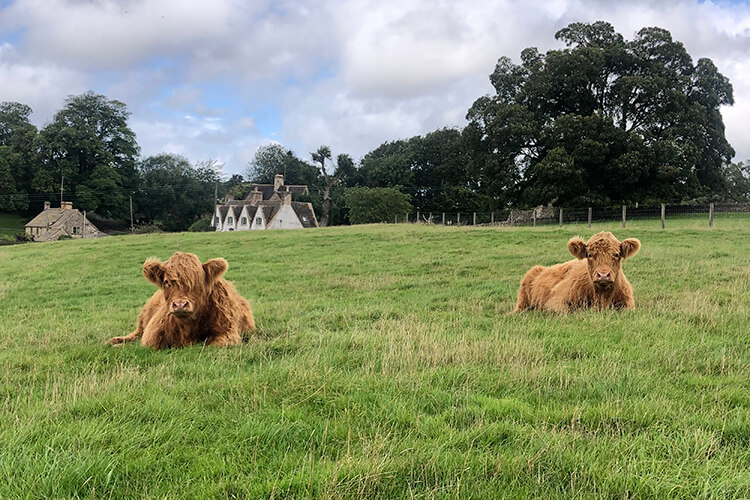 Our Royal Highland cattle
The newest members of the Notgrove pack are William and Harry. They are related to Archie, the Highland bull, as seen on Countryfile who lives nearby at Adam Henson's Farm Park. We decided to call them William and Harry since Archie was bred by The Queen at her estate in Balmoral, Scotland.
We have one pig called Mr Bean. He is very friendly and always hungry! He lives in the paddock at The Nuttery Cafe/Bar in the village. He loves a good scratch and meeting the guests so be sure to say hi to him when you visit!
Magpie and Wren will be your morning alarm clock when you come and stay, calling out to anyone who will feed them!! They insist on greeting everyone who passes their paddock, and love as much fuss and attention as you want to give them.
Last but not least our Goats!
Our goats, despite being very much loved by us, are definitely the naughtiest of our animals! Wallace is the leader of the goat team having been with us for 5 years.  Ginger and Pickle, joined him this spring with Bam Bam and Pebbles arriving this summer.  The kids are very good at escaping so don't be alarmed if you find them out of their paddock!
See more of our accommodation choices at Notgrove