A New Season With Welcomed New Additions
March is upon us , snow drops are scattered across the Cotswolds and there is most definitely the feeling that spring is in the air.
We are enjoying the start of a new season here and want to share with you our exciting new editions!
With young and old in mind we have had a fantastic new 'Clamber Stack' built on our playing field. It's a great robust piece of climbing equipment that will burn up lots of excess energy. Alongside this we have also added two very pretty Willow Wigwams to get imaginations running wild. We wont allow any boredom in Notgrove!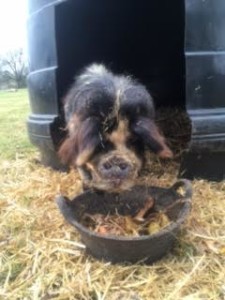 We have two new human recruits and one new four legged grunting friend! All extremely friendly and happy to be part of the Notgrove clan.
 Bumble moved up to us from the manor fields where she has lived for a number of years with her fellow pot-bellied friends. Unfortunately they started to turn against our beautiful pig Bumble and were bullying her so we gladly re-homed her at the holiday barns. She is adorable!
Lynne and Beth joined us at the beginning of the year to be part of our housekeeping team, getting us off to a flying start!
We also have our three new(ish) pods. Poppy, Bluebell and Buttercup. They technically opened for the end of December and have been well booked since.
In fact we could not be happier with the way the bookings have been flying in for all of our accommodation. We are seeing returning guests which is lovely and enjoy meeting new families too. Our feedback is amazing and we feel so lucky to have such fantastic people come and stay with us!
Although change is always refreshing it's also nice for some things to stay the same.
Yes we still have our incredibly naughty goats and opinionated Donkeys. Our four flighty alpacas are also still watching our every move, I am never sure what they are thinking. It's probably the best way to be honest.
The roads are still as hectic as ever around here, especially in rush hour (hmmmm) and thank goodness the scenery is still that perfect picturesque landscape you think you could only dream of.