As you know we welcome canine loved ones (and their well-behaved owners) here at Notgrove. We have secure gardens in all of our cottages/barns and even think ahead and provide you with water bowls and doggy –do bags too.
The Cotswolds are a perfect place to bring your four legged friends and here we have a few ideas of what you can do happily with them locally to us at Notgrove.
Enjoying a pint or two and a bite to eat
We are very lucky and have lots of relaxed landladies and lords around the area who love nothing more than meeting new friendly faces and wagging tails.
Starting off with The Halfway House in Kineton. A small Hamlet under ten minutes drive from us or a good picturesque walk away. The first Sunday of every month they welcome everyone to join them for breakfast baguettes then a long walk around the surrounding countryside with your dogs. Ending up back at the pub for re-hydration and a truly delicious Sunday roast. Such a lovely idea and the food is scrummy. Dog treats always available at the bar!
The Ebrington Arms set in an idyllic Cotswold village with thatched cottages and fairytale wishing wells Ebrington is one of my favourite villages. With plenty of walks around the area you could finish off at this splendid traditional watering hole. You may even be able to join in with the local 'knitters' sat at the bar with their balls of wool and dogs at feet.  You are always made to feel very welcome. Fantastic food!
The Broadway Hotel In the centre of Broadway this historic hotel oozes charm, quirkiness and lots of comfort. After your long walk all the way up to see Broadway Tower and its Nuclear Bunker and then your march back down the hill again you will be ready to sink into one of the armchairs next to a roaring fire at the Broadway Hotel. Marvelous menus to choose from.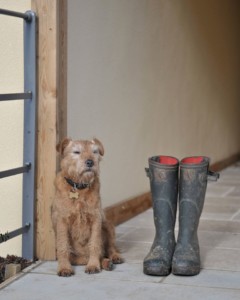 Days out and about
Cotswold Wildlife Park and Gardens A great 'whole' day out for all of the family. Any ages, any amount of legs, all will definitely enjoy. Just outside of glorious Burford which too is bursting with dog-friendly pubs and eating establishments.
Lodge Park and Sherbourne Estate A traditional working estate. You will be truly spoilt here with a deer park, water meadows and historical architecture. The Lodge is England's only surviving 17th Century grandstand. The quaintness of the village is a must see where you can stop for tea and cake in the local shop and tea rooms.
Batsford Arboretum A lovely place to stroll and forget yourself. Peace, tranquillity and magical gardens.
This is just a snippet of what you could do and where you could go.
Well why should you have all the fun? After all, dogs are a man's best friend!
Interested in booking a holiday cottage at Notgrove with your flurry friend? Check out our Dog Friendly Holiday Cottages here!