Leave The Ipads Behind And Let The Outdoors Do The Entertaining
I completely understand that times have changed and lifestyles are quite often very different to what they used to be like even from just a few years ago. Modern Technology plays a strong part in most people's everyday lives nowadays and we can get so much from a click of a button or a swipe of a finger. So I do see how easy it is for us to get a moments peace from possibly whining children by handing over the tablet (I definitely do not mean a medicinal one). It does sadden me though when we are surrounded by beautiful natural things, all freely available to everyone's eyes supplied courtesy of mother nature that people decide to sit inside staring at a screen with a zombified glaze about them.
Get outside with your children of any age and absorb the fresh air and natural light.
A Good walk clears the head quite well of worried thoughts in young and old. Believe it or not it can actually stimulate conversation amongst each other. Maybe even a healthy little debate or even bring out some opinions!
Enjoy a picnic on a rug. Or not even on a rug but a dryish patch of grass or dirt whilst watching wildlife bob about with the engrossing tunes of bird song in the background.
We are all guilty of admitting to being bored every now and then but do we really have the right to say that when we live in such a gorgeous place?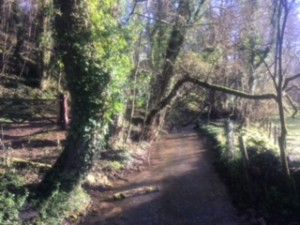 We love nothing more than heading off to one of our local 'fords' to have a splash about in. Whether it's with woolly hats on, wellies and gloves or shorts and bare feet! You can practice skimming stones for hours until you run out of the suitable weapons. Build a dam, play pooh sticks or make mini rafts with leaves and twigs. Turn over stones in search of interesting bugs and seeing if there is any 'pond-life' activity.
The thing I like doing best of all though is finding a nice bit of dry stone wall and taking a pew. Sitting back and just watching the children use their imaginations to play their own games, get a bit dirty and just be a child and have good old fashioned fun!
There is no need to 'over-plan' things here in Notgrove or in the Cotswolds. Just let mother nature take you for a day out instead!