Well since my last blog a lot has happened, and on other fronts as is often the way life just carries on, despite all the exaggerated news that we are bombarded with.
Being British we have to start every conversation with the weather - What happened to it? - We were promised the coldest winter on record - but what happened was in fact a rather mild, average, not too wet normal sort of winter - if fact rather British all round.
Much more exiting is the coming of spring - one of the best times of year with the abundance of snow drops and daffodils just pushing their shoots through the ground. Also don't forget to just stop and listen early in the mornings - the bird song is wonderful, woodpeckers, pecking away, masses of LBJ's (little brown jobs') twittering (not tweeting!) and I have just heard my first dove cooing  - so romantic!
What was wonderful was seeing our first proper flock of Lapwings once again expanding and thriving on the farm over the winter - our Higher Landscape Scheme really has had wonderful results - but it does also help that we have been able to control certain other animals that love eating all the ground nesting bird's eggs!
Mervyn has been busy feeding the birds over the winter and will continue to do so until mid-April as this seems to have a good effect on breeding in the spring.  He has welcomed Bull Finches and even a Hoopoe - do look them up they are more like something that should live in the Amazon than the UK.
The other good news is TB - last year was terrible, we were closed down for 6 months due to TB and it seems now that at last we might have the all clear - we had to test all the Alpacas and Goats, and thank goodness they were free, it would have been devastating to lose all our holiday animals as well.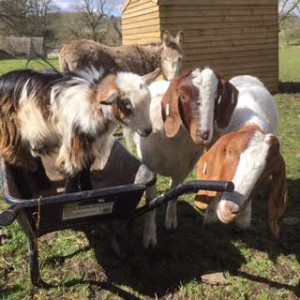 The crops have had a good winter as the weather has been kind to us - with the exception of "Doris" who managed to destroy 4 animal shelters, luckily not much damage was done to our woodland, perhaps because the wind seemed to come from all directions the trees managed to stay upright but the huts were lifted straight up as if a tornado hit them. Paul will be busy repairing all the damage over the next few weeks, as if he doesn't have enough work keeping the holiday cottages and pods maintained - who put all those sycamore seeds down one of the pod toilets!!
The pods and holiday cottages have had a good winter, all our landscaping is coming on well.  Thanks to Mike the gardener the Pod site is being transformed from a field to an open garden with a unique landscape, all the holiday cottage gardens have also taken on a new lease of life and we are looking forward to the fete and Manor Open Garden in August with a lot more confidence.
I also have to mention the wonderful team we now have for the holiday cottages, Katie who does all the bookings and management and PR, no minor task as we let the pods for single nights over the winter. Our team of cleaners, animal carers and everything else that is needed to keep the show on the road, Lucy who also writes the most amazing blogs on Facebook, Lyn and Beth who have recently joined the team who never seem phased by anything  that comes there way.  We have another recruit joining us next week, Pete who will help everyone and is an expert Dry Stone Waller, will end up working on numerous projects.
Last and perhaps most importantly I have to thank my wife Diana and everyone who comes on holiday here and also lives and works in the village on the various other business we have - you have all helped the farm transform itself, and will continue to do so, we have made huge changes starting with horse livery yards, then dog kennels, shooting and holiday cottages and pods.  We are planning three charity running and cycling events this year, it works because we all work together and put up with each other!  Long may it stay like that and many thanks for all your support.
Ps - the work on the Church Trees was nothing to do with me - I tried to persuade them to do a proper pollarding job (and even suggested they go to the Tower of London to see how it is done properly) instead they decided to destroy the setting of the Church by butchering the trees. I guess religion never was good at uniting people after all!!
All the very best in 2017 - ignore the news and enjoy your self
Harry